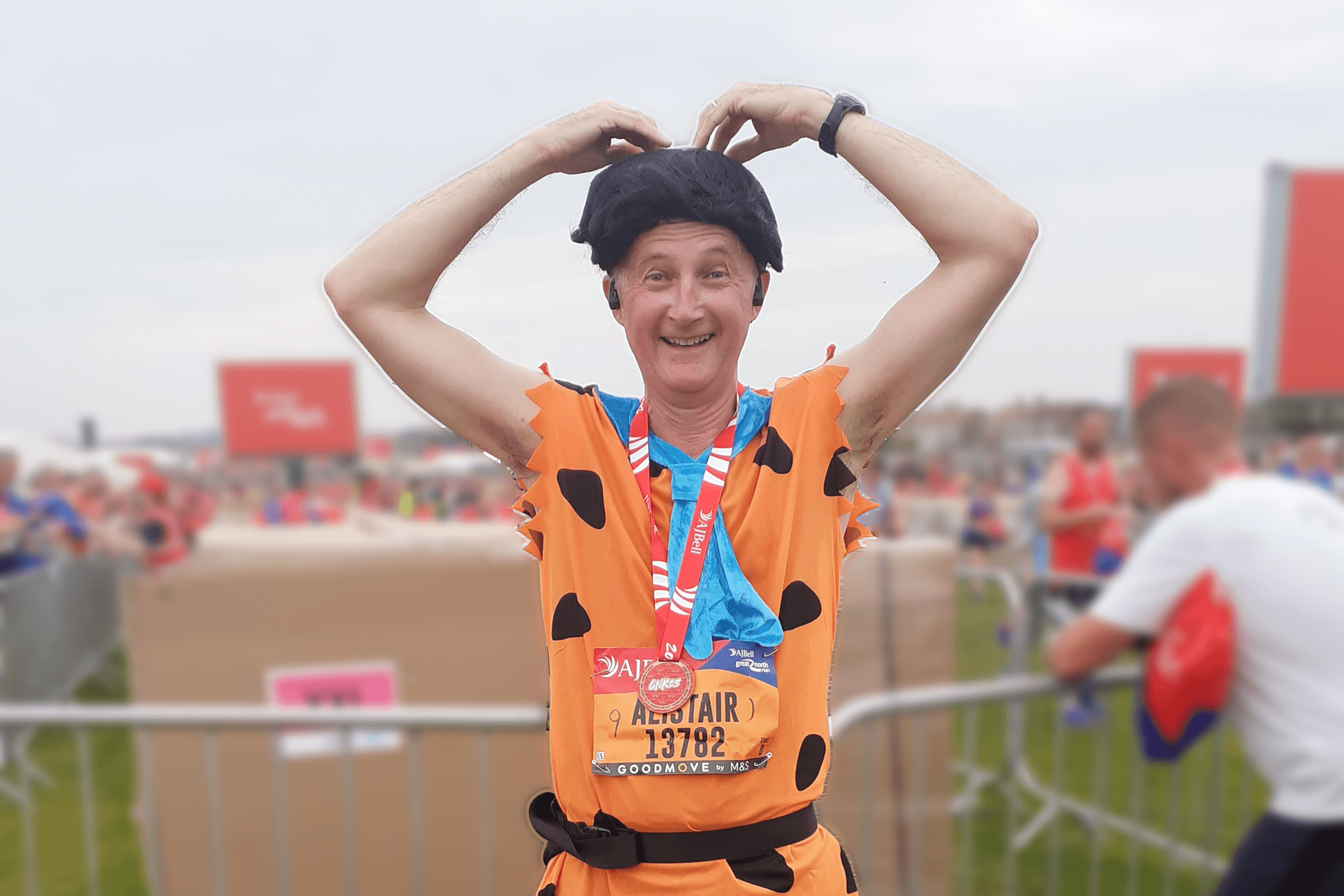 Cheerleading is for Life, Not Just Half-Marathons!
I think cheerleaders get a hard time!  I think I have been a bit snooty about people cheerleading – shouting, cajoling, ringing bells, clapping clapper-boards and generally being super-exuberant at public events.
Having run 13 miles around Newcastle in the Great North Run, and then the same up and down the beach at the Bournemouth Half, it's time to change my mind.  Admittedly I was wearing a Fred Flintstone outfit and ill-fitting wig for these events (strategically chosen by the Faithworks team for peak noticeability).   But whether in Geordie or Dorset, "Looking gorgeous, Fred", "Yabba-Dabba-Doooo", or even "Get a move on Flintstone" just made me smile and put a bit of extra fuel in the legs.
And it's not just the words.  Even if you hold out from taking the jelly babies or orange segments that are on offer almost every 10 metres, there might be the occasional hosepipe coming out of a garden to offer a mini-shower as you run past.  Or folk who found their megaphone in the garage and shout out your name as you go past for all to hear (nowadays runners have their names on their race number) although I sometimes forget and do a double-take: "how do they know my name?"!  In one part of Newcastle, there is even a group offering home-brew beer!
Then, of course, there are the financial cheerleaders who may donate just to see me make a fool of myself, but they still give and sometimes very generously: Thank you to all who gave this year to enable Faithworks to run more money courses for kids – there's still time to donate below!
For each event, hundreds of people made an effort to come and cheer people along.  Yes, I did play up to the crowd as people like a bit of fancy dress, especially in Bournemouth where there were only 3 other brave souls playing the fool!  But I almost stopped and admired the cheerleaders themselves who had stayed on until the final runner came past – encouraging the one person who was finding it really hard to keep going.  The crowds were inspirational, saying: "Keep going – you can do it!, "Don't give up!" and "You're amazing!".  And then there were those who stepped up when a runner fell, by calling for help, making space to protect them, and gently talking to them:  cheerleading can be both loud and gentle.
And that's when I realised that there are people who do this every day, perhaps less publicly but with the same commitment, humility and energy: "Don't give up – you can do it".  Like the volunteers who meet people at Faithworks Food Banks welcoming them in for a cuppa and a chat while the food is getting sorted.  Like the community and friendship teams who get alongside tenants in our Hope into Action homes, checking how they are, maybe encouraging them to keep going on their recovery journey out of addiction.  Like our CMA Budget Coaches who keep people buoyant as the Debt Advisors find a way out of their money and debt tangles.  Like the volunteers who come to the SMILE lone parent family coffee morning and quietly check-in with the mums to see if they have held things together that week.
In our wider community there are people who simply walk across the road and check how their older neighbour or an unpaid carer is doing each and every week, and those who help clean our beaches and public spaces.  It's not new or complicated: but people need people, and this is a good place to start.  In the midst of hard stuff in the wider world, let's tip our hats to those who cheer people on – or as the Good Book calls it, those who "love their neighbour".
So, what should my fancy dress choice be next year, and will you come and cheer?  Get in touch using the contact form below (select General from the drop down menu).